Unexpectedly awesome things in Wagga Wagga
Words | Georgia Rickard, Australian travel editor
Experience a different side of the city with these offbeat activities.
Explore backstreet murals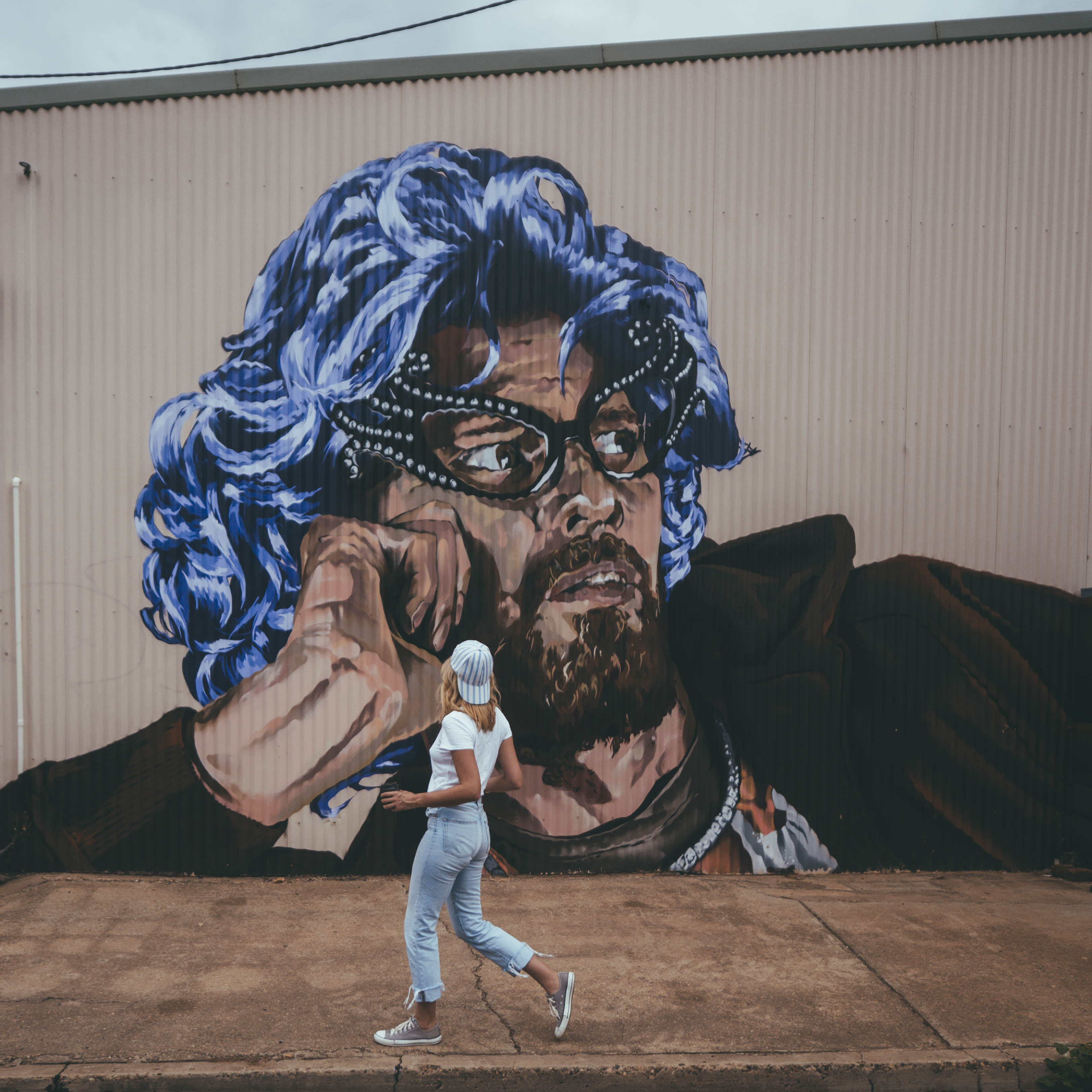 It might be a few hours' drive to our cultural capital, but Wagga Wagga's flourishing street art scene has Melbourne grunge all over it.
Grab yourself a coffee from Fitzmaurice Café, or in local lingo; Fitz Café and go for a wander with your camera: you're in for a surprise, with four huge murals hidden in the backstreets around Cadell Place.
That's not all: you'll also find some incredible period architecture nearby, like the stunning courthouse – recognisable by its tall clock tower.
If you're in town for Winter Solstice (this year on 22 June), you might also want to check out the city's epic Lost Lanes event.
Described as an evening of "urban-funk murals, fire pits, mulled wine, hot chocolate, soulful sounds, interactive arts and hearty street food", the festival is held in the mural-covered backstreets; last year's inaugural event drew crowds of some 10,000 people.
Two new murals are also about to go up in the laneway as part of Lost Lanes 2019, adding even more grunge to this popular end of the city's CBD.
---
Make your own flower crown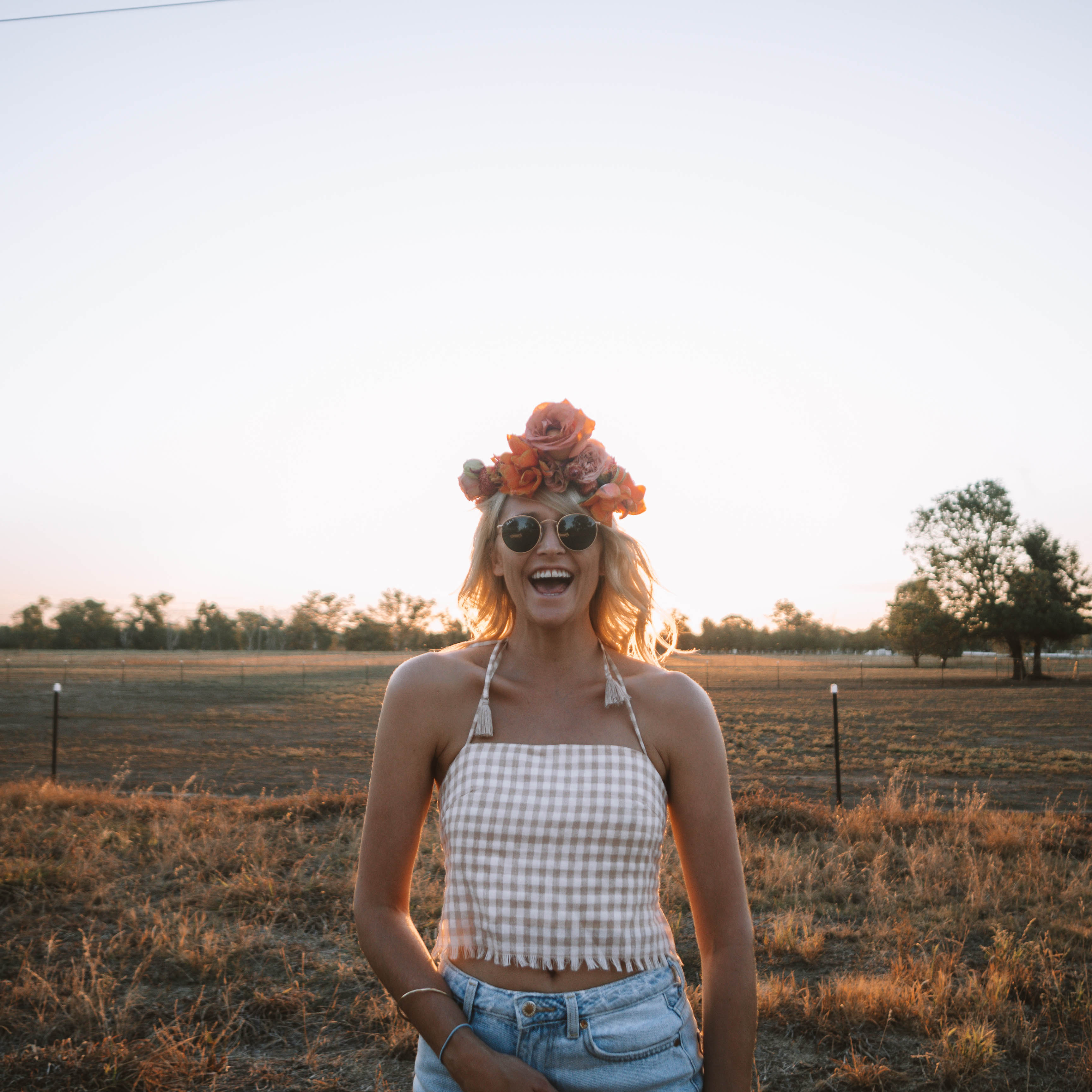 A day at Little Triffids Flowers is arguably Wagga Wagga's prettiest day out.
This floral design studio and micro-flower farm, run by friends Sophie and Beth, offers flower crown-making workshops in situ at Sophie's home, situated in North Wagga.
You'll know it when you see it (Sophie's sweetly coloured cottage, in powder blue, is hard to miss from the street) – but it's out the back where the magic happens.
Walk through a lush garden to discover her studio at the rear – it's hiding inside a little shed, like a gorgeous secret cubby house.
All flowers are grown in the property next door – among them chrysanthemums, delphiniums, calla lilies, dahlias; the property also has a rose patch.
Workshops are offered by appointment and can be tailored for hens' parties, birthday parties or whatever else you feel like celebrating. After all, everything's better with a flower crown on your head! Little Triffids also run one-off workshops throughout the year. Stop by their website or socials to catch these pop-up events … don't stop and smell the roses when they do get announced as they always book out quickly.
---
Spend the night at a horseriding farm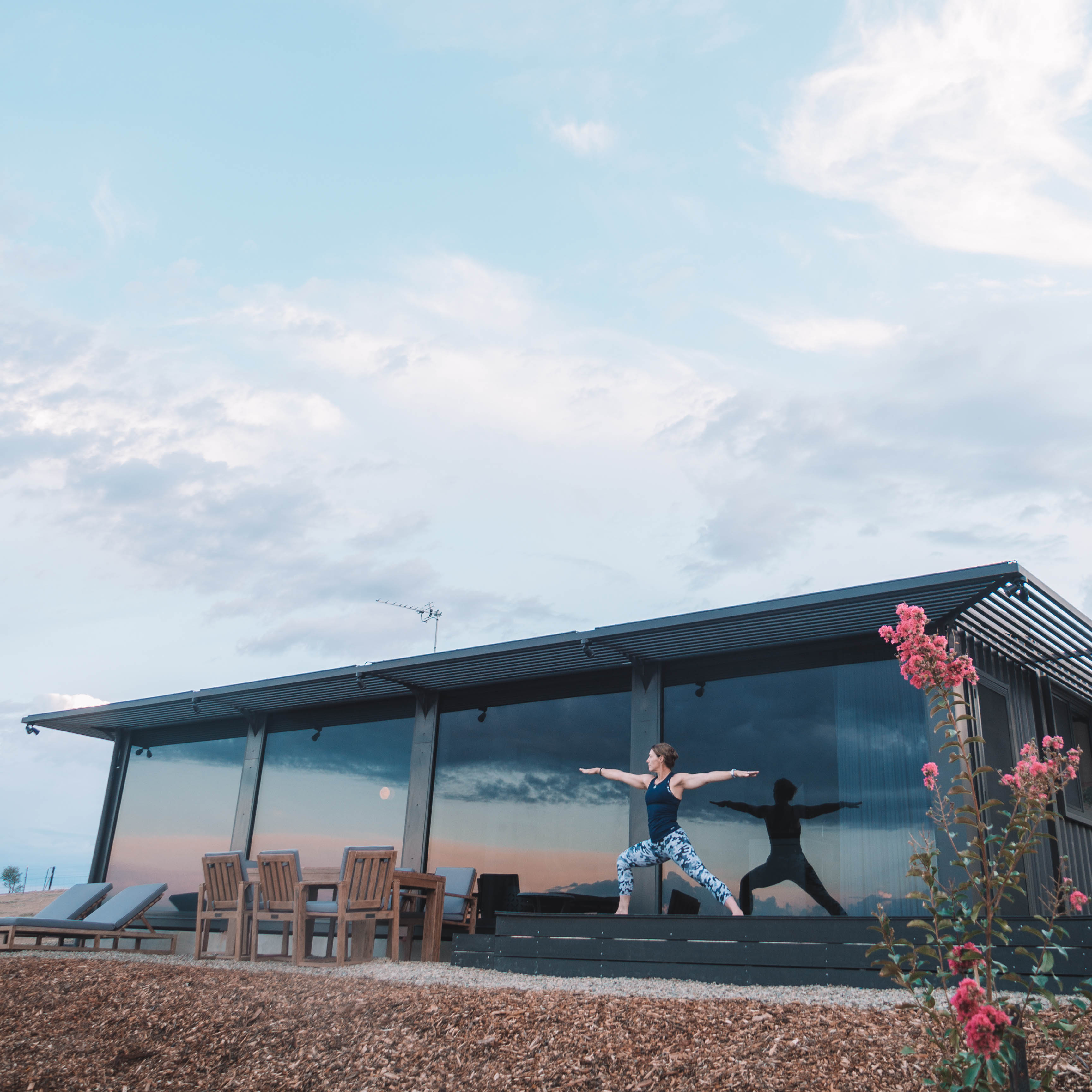 Perched atop Belisi Hill is Wagga Wagga's new treasure: luxury hideaway, Belisi Farmstay Cottage.
Jenni Riethmuller and her husband Jeremy were inspired to build the luxe escape following the success of their main business (equine therapy and horse riding lessons), and though it's only been running since February this year, the accommodation has been so well received it's already had several TV appearances.
You'll understand why when you see it: clean lines and sharp edges lend a delightfully sculptural effect against the bucolic countryside – you'd never guess that the cottage was built from two shipping containers joined end to end.
Inside, the retreat is filled with sustainable treasures: from the sumptuous bed linens to the concrete bath bench, everything in the cottage was purchased locally; the bath salts are part of a handmade range blended by Jenni herself.
Collect your eggs each morning from the chook yard, located just downhill from the cottage, or order a hamper of produce from the 'personal pantry' menu teeming with local Wagga Wagga and regional produce to sample.
For something you'll really dine out on, though, book in for a private yoga lesson on the deck. There's really nothing like a good stretch, breathing in the crisp, regional, morning air, as the sun rises over the nearby hills. Nama-stay!
---
Hit the beach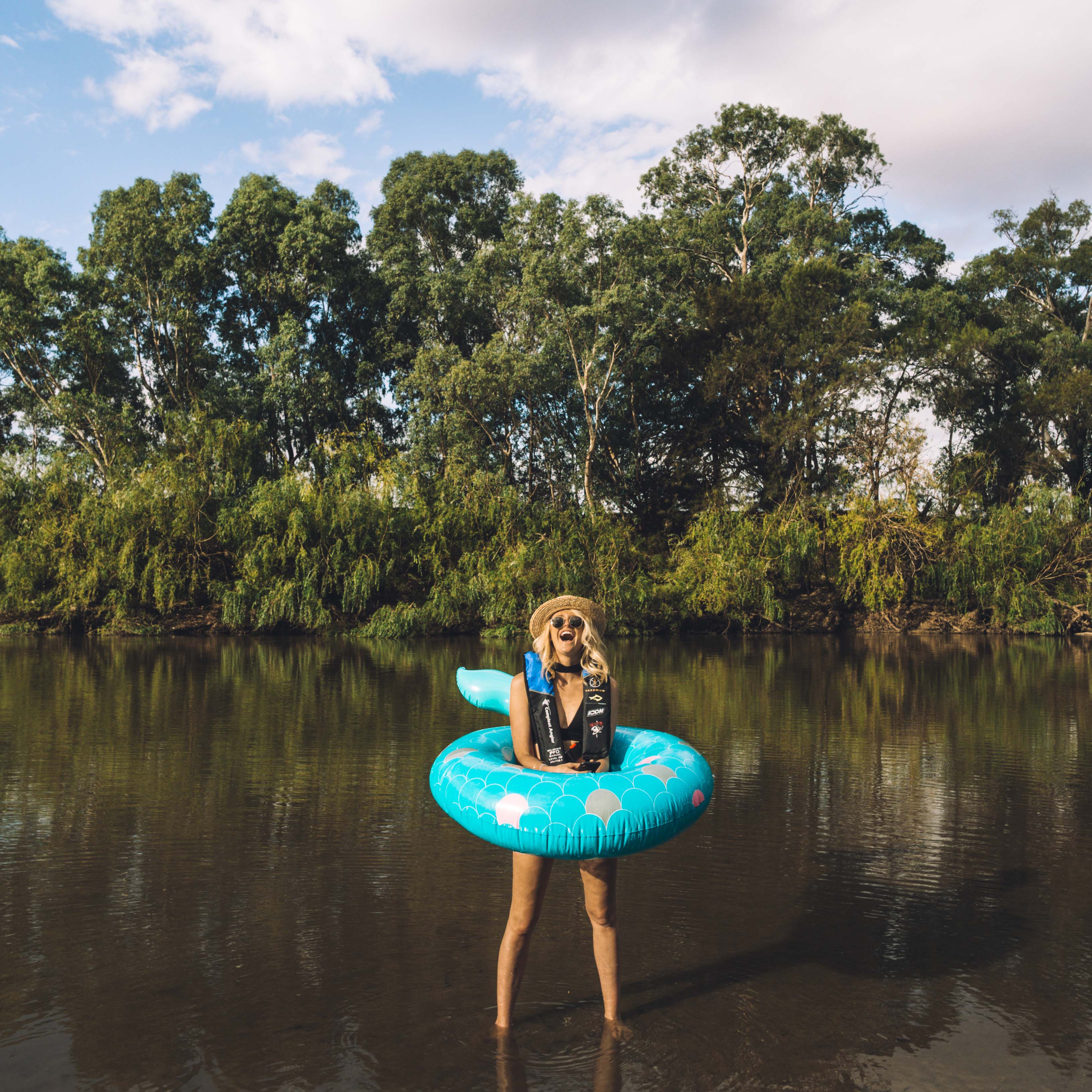 You might have expected rolling hills and pretty countryside… but we bet you didn't expect Wagga Wagga to have a beach!
This very pretty spot, surrounded by weeping willows and gnarled old tree trunks, is found virtually in the centre of town, forming part of the great Murrumbidgee River.
Local tradition dictates that you grab an inflatable and jump on in for a swim: as you float, the current will gently pull you downstream, offering a sightseeing tour with a difference. (Note, wearing a life vest is recommended for this activity. Safety first.)
If you'd prefer to stay dry, you'll find plenty to do by the water.
Local families often gather here by the sand for relaxed weekend picnics where, if you're lucky, a well-timed coffee van will appear, too.
Wagga Beach is so beloved that there are also plans afoot to open up more facilities at Wagga Beach, such as pop-up cafes, new BBQ shelters and picnic furniture, and a potential water park right next to the river.
More interested in solitude? About 20 minutes' drive away, you'll find an equally pretty riverside scene at Oura Beach Reserve – an amazing find in the middle of the bush and a great, free camp spot to boot!
---
Explore a cactus garden
Wagga Wagga's 50-year-old Botanic Gardens are home to a Cacti and Succulent Garden.
There's a self-guided walking tour of the garden you can download on a mobile app for anyone keen to improve their knowledge of these drought-resistant plants or many other plants in the gardens.
Nearby, you'll also find a miniature railway within the gardens, which operates every second Sunday, thanks to volunteers from the Wagga Wagga Society of Model Engineers.
As well as the mini trains, kids will find plenty to amuse themselves here, too.
There's a mini zoo, featuring kangaroos, roaming peacocks, guinea pigs, a donkey family, pigs, ducks, rabbits and more.
And, courtesy of Wagga Wagga's 'sister' city of Kunming, there's a Chinese Pavilion and water feature, sporting rocks transported all the way from China. Pretty cool!

---
Georgia Rickard is a multi-award-winning travel journalist, producer and Australian travel specialist. She visited Wagga Wagga in early 2019. These articles showcase the attractions and travel experience Georgia had in Wagga Wagga during her visit.
For more Wagga Wagga visitor experiences and to build your own itinerary for a visit head to Visit Wagga Wagga's homepage.
Also, stop by our Visit Wagga Wagga Facebook and Instagram pages for more inspiration on what to see + do, eat + drink and where to stay.
And, to catch up on Georgia's travel adventures head over to her Instagram and Facebook.
#visitwagga