Bidgee Strawberries and Cream Tours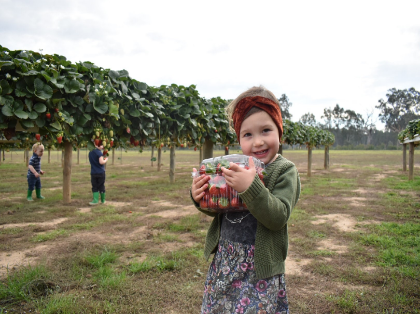 Billagha Street
Wagga Wagga NSW 2650
One of Wagga's leading agritourism destinations, specialising in providing sweet ripe, chemical free strawberries to the people of the Riverina.
They provide a guided educational tour of the strawberries, there are also bee hives to see, horses to visit, a scar tree to look inside of and a massive red gum tree that the children can see how many it takes to fit around the whole tree.
It is recommended you allow between one and two hours for the experience at the farm. Please email, message or call to make a booking.
Beautiful sweet strawberries to pick, bring the family and enjoy this tour! (Seasonal)
PLAN YOUR VISIT
P 0428968909
E info@bidgeestrawberriesandcream.com.au
W https://www.facebook.com/bidgeestrawberriesandcream/