Wagga Beach

December 12, 2019
It's official! Riverside: Wagga Beach (Wagga Beach) has been named one of the top 10 best beaches in Australia
Our sandy strip by the Murrumbidgee River has taken out the number NINE position in the Top 20 beaches of 2020, as compiled by Tourism Australia's Beach Ambassador Brad Farmer AM.
By making the honour roll, Wagga Beach is the first inland beach to ever feature in Mr Farmer's lists.
In Wagga Wagga to officially launch the top 20 list, Mr Farmer said the Wagga Beach achievement was likely to turn the tide on the nation's definition of 'a beach'.
"It's time we extend the meaning of a beach given there are so many aquatic environments across Australia's interior," Mr Farmer said.
"These recreational settings are deserving of inclusion because of the value Aussie's place on water, both socially and as a precious resource.
"Wagga Beach ticks all the boxes for inclusion in the top 20 list – golden sand, sunshine, water for a dip, shade to cool off."
For thousands of years the Murrumbidgee River in Wagga Wagga has long been a place for celebration and exchange for the traditional owners of the Wiradjuri nation. This tradition continues today with Wagga Beach one of our city's top attractions for locals and visitors.
"Wagga Beach on a sunny, summers' day rarely has a patch of sand free as visitors and locals enjoy a splash in the Murrumbidgee River, play beach cricket or rest under the shade of the river red gums," Mayor of the City of Wagga Wagga, Councillor Greg Conkey said.
"For Wagga Wagga, almost 400 kilometres from the nearest coastline, to be at the centre of a national conversation about beaches, is certainly worth celebrating.
"We have long known that Wagga Beach is an inland paradise, and now we welcome the rest of the country, and the world, to come see our #9 Australian beach.
"Our inclusion shows visitors that if you take the road less travelled and head into regional areas you can uncover some of our country's hidden gems."
Wagga Beach will also continue to improve, as the city further invests in the precinct, with stage two of the riverside upgrade to start in the new year.
In 2018/2019 tourism contributed $378M to the Wagga Wagga Local Government Area.
---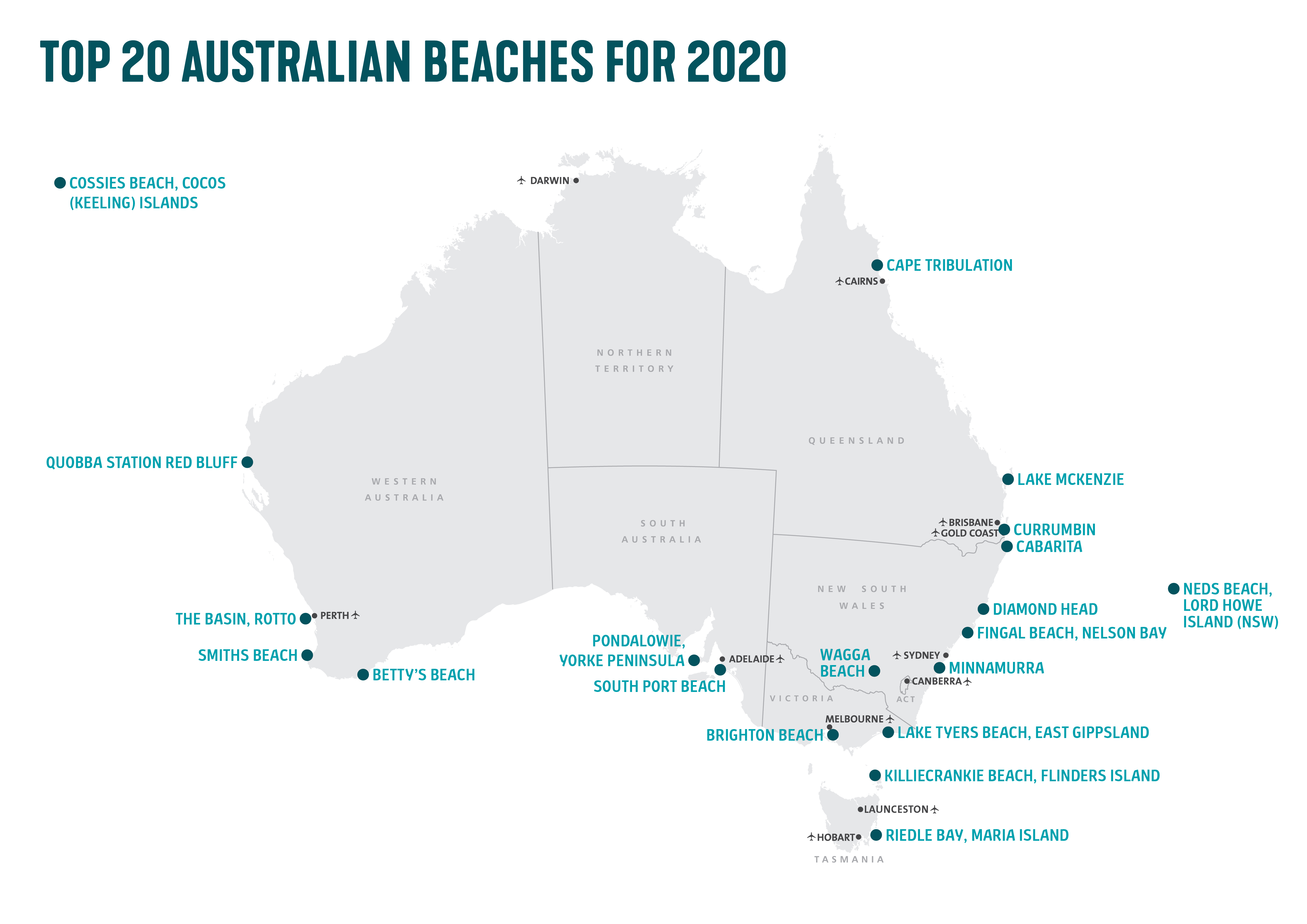 Australia's premier inland beach
Riverside: Wagga Beach, beside the Murrumbidgee River, is a popular, natural, attraction in Wagga Wagga. The earliest mention of 'Wagga Beach' was in The Daily Advertiser in 1915. The beach also had an official lifesaving club for close to 50 years.
Riverside: Wagga Beach is arguably the city's number one attraction year-round. A great spot to cool off or launch a kayak or canoe and see part of our city from the water. There's plenty of grassed, shady spots for a picnic, sheltered barbecue areas, a playground and seats to sit and watch the world go by. Riverside: Wagga Beach is also part of the Wiradjuri Walking Track in Wagga Wagga, and all of this is just five minutes from the city's CBD - so you don't have to travel far to find this inland paradise.
Investment in this city and visitor asset is ongoing with staged upgrades in 2020, to develop more community and event spaces, including a splash park and amphitheater. Read more about Wagga beach and Riverside stage 2.
Unexpectedly awesome things in Wagga Wagga
Visitors are often surprised when they find out Wagga Wagga has a beach - given the city is about 500km inland from the Australian coastline.
This was no different for travel writer Georgia Rickard (pictured right) who paid Wagga Wagga a visit earlier this year. As part of her adventure she ventured down to Riverside: Wagga Beach. Find out what she had to say about our inland oasis.
Trend setters
Share the love for Riverside: Wagga Beach!
Have you paid Wagga Beach a visit? If so, head over to Instagram and share your fav snaps of our sandy shoreline. Use the tags #visitwagga and #waggabeach! We may even repost your pic on our official Visit Wagga Wagga Instagram page.
Head to our official page or check out some of our recent top picks shared from our Wagga Wagga + Surrounds region via the gallery below.