Promoting your event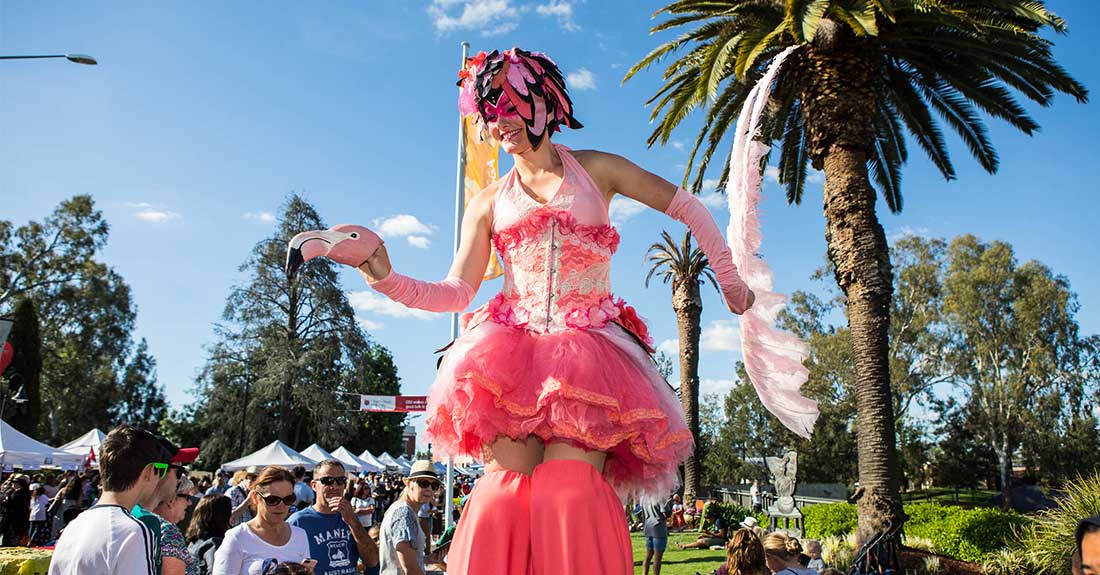 Wagga Wagga has a great calendar of large and small events held throughout the year. Events play a key role in helping to attract visitors to our city and surrounds, help boost the local economy and make Wagga Wagga a great place to live, work, visit and invest.
Event promotion is one way Wagga Wagga City Council supports events in our city and surrounds. Event organisers are encouraged to first list their event through our online calendar - which is hosted by the Australian Tourism Data Warehouse (ATDW).
Read more about the online calendar and other ways Council can assist with promotion of events registered with us below.
* Event promotion through Visit Wagga and Wagga Event platforms is at the discretion of the Visitor Economy and Events team and every effort is made to ensure these listing are varied and shared across the year, which demonstrates the large quantity and variety of events held in Wagga Wagga + Surrounds.
EVENT PROMOTION
Online calendar | List your event
Free event listings are available through the Visit Wagga Wagga website's online calendar. This calendar is hosted by the Australian Tourism Data Warehouse (ATDW).
Events can be registered in three easy steps:
1. Register a free account with ATDW and login
2. Create an event listing, provide details and a high-resolution image
3. Wait to receive approval

Once approved by ATDW, the event/s are then listed in the online calendar on visitwagga.com as well as on visit.nsw.com.

For further more assistance check out >>> ATDW event listing step-by-step guide
* Need an image for your event listing? Please feel free to use our Wagga Wagga tourism stock image library to find free, event-appropriate images. Alternatively, royalty-free generic images can be sourced online via a number of websites. One easy-to-use website is Unsplash.
A printed What's On guide is released each season, highlighting events in Wagga Wagga + Surrounds. The guide is distributed in Wagga Wagga and throughout our wider region.
Inclusion is subject to approval and space restrictions. Events can be submitted any time, however, in order to be considered, events must be submitted no later than the dates outlined below.
| Edition | Submit by | Printed and distributed |
| --- | --- | --- |
| Autumn 2020 | Friday 17 January 2020 | End of February 2020 |
| Winter 2020 | Friday 17 April 2020 | End of May 2020 |
| Spring 2020 | Friday 17 July 2020 | End of August 2020 |
| Summer 2020-21 | Friday 16 October 2020 | End of November 2020 |
Email newsletter
Thousands of individuals and local businesses receive our monthly What's On email newsletter. You can sign up to receive updates here.
Social media
We can provide promotion of events through the Visit Wagga Wagga and Wagga Events social media channels - as outlined below.
We also recommend event organisers, where possible, to encourage cross-promotion of the event through social media, such as sharing posts via social media pages held by the event's sponsors or charities involved in the event.
Event organisers are also encouraged to use #visitwagga and #waggaevents in their social media posts.

Visit Wagga Wagga
Wagga Events
Council News
Each week a list of upcoming events (Saturday to Friday) is included in Council News. Council News is a weekly Wagga Wagga City Council publication that is distributed by email each Friday and published on Saturdays in the Fairfax's Weekend Advertiser and repeated the following Wednesday in The Leader and Thursday in The Rural.
* While we endeavour to include as many events as possible, due to space restrictions, not all can be included.
Regional event promotion
Generally, events held outside of the Wagga Wagga Local Government Area are ineligible for the free event promotions outlined above.
As part of the Wagga Tourism Partner Program, partner council's receive promotion of four events in their respective local government area (LGA) each season. The following council's partner with Wagga Council in 2019/20:
Coolamon Shire Council
Cootamundra Gundagai Regional Council
Greater Hume Shire Council
Junee Shire Council
Lockhart Shire Council
Narrandera Shire Council
Snowy Valleys Council
Temora Shire Council
If you are holding an event in one of these LGAs, please get in touch with your council to discuss being listed as one of their events for the season.